Weird! The Musical CNY Tour Nominated for 5 SALT Awards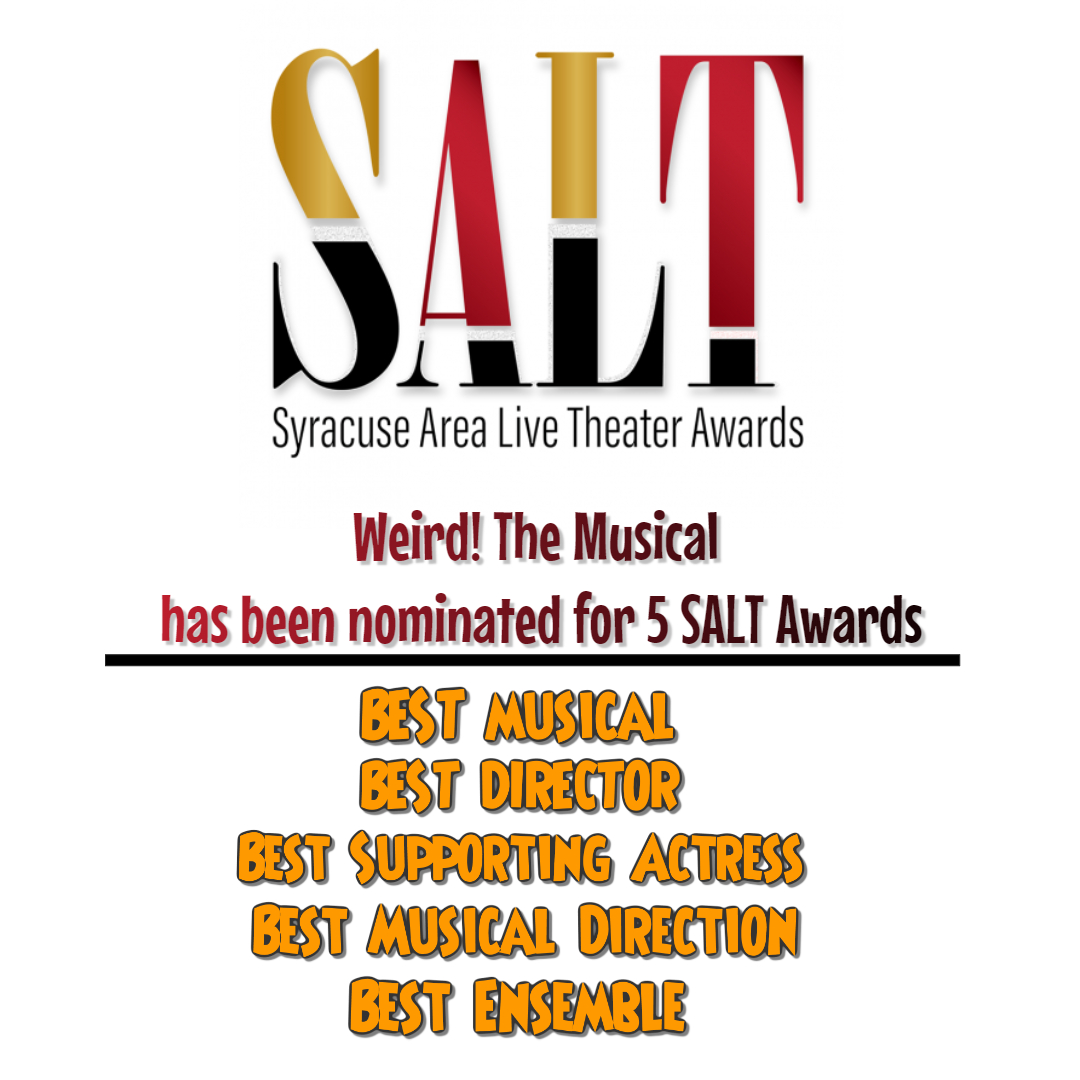 Congratulations to The First Official Touring Cast for receiving 5 Syracuse Area Live Theatre (SALT) Awards nominations in the Regional Theater category.
Weird! The Musical was honored with nominations for Best Musical, Best Director for Shawn Forster, Best Supporting Actress in a Musical for Riley Mahan, Best Musical Director for Roy George, and the entire Cast for Best Ensemble in a Musical.
REGIONAL THEATER COMPANIES
Musical of the Year
Kinky Boots (Hangar Theatre)
Legally Blonde (Cortland Repertory Theatre)
Mamma Mia! (Cortland Repertory Theatre)
Once Upon a Mattress (Redhouse Arts Center)
Weird! The Musical (Peaceful Schools Productions)
Director of a Musical
Trey Compton, Legally Blonde (Cortland Repertory Theatre)
Shawn Forster, Weird! The Musical (Peaceful School Productions)
Gerry McIntyre, Kinky Boots (Hangar Theatre)
Kerby Thompson, Mamma Mia! (Cortland Repertory Theatre)
Temar Underwood, Once Upon a Mattress (Redhouse Arts Center)
Supporting Actress in a Musical
Jane Blass, Into the Woods (Hangar Theatre)
Mariko Iwasa, A Charlie Brown Christmas (Redhouse Arts Center)
Riley Mahan, Weird! The Musical (Peaceful Schools Productions)
Aline Mayagoitia, Kinky Boots (Hangar Theatre)
Cathleen O'Brien Brown, The All Night Strut (Redhouse Arts Center)
Amanda Walker, Mamma Mia! (Cortland Repertory Theatre)
Best Musical Director
Barry Blumenthal, The All Night Strut (Redhouse Arts Center)
Roy George, Weird! The Musical (Peaceful Schools Productions)
Andrew Russo, Once Upon a Mattress (Redhouse Arts Center)
Shoshanna Seid-Green, Mamma Mia! (Cortland Repertory Theatre)
Christopher Zemliauskas, Kinky Boots (Hangar Theatre)
Best Ensemble in a Musical
The All Night Strut (Redhouse Arts Center)
A Charlie Brown Christmas (Redhouse Arts Center)
Kinky Boots (Hangar Theatre)
Legally Blonde (Cortland Repertory Theatre)
Mamma Mia! (Cortland Repertory Theatre)
The Rat Pack Lounge (Cortland Repertory Theatre)
Weird! The Musical (Peaceful Schools Productions)
See Full Article: Family Times CNY Nominees for 2019 SALT Awards Revealed